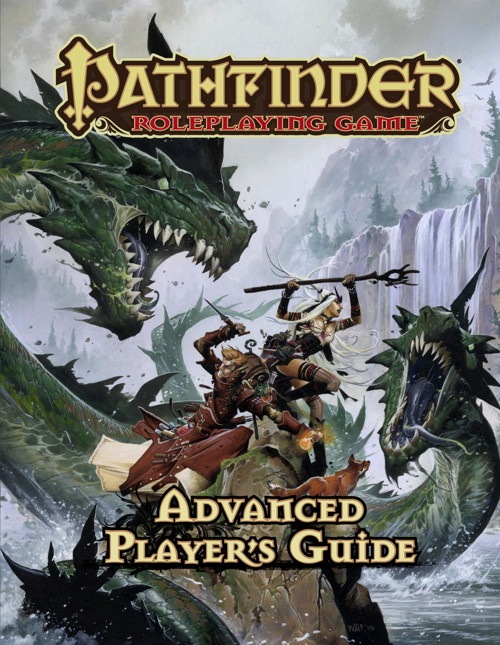 Following in the footsteps of the Pathfinder Core Rulebook, Paizo, Inc. has released Round I of the beta playtest for their Advanced Player's Handbook, due to release next August (2010).

For those of you that don't know me, I'm a big fan of Pathfinder. I'm not a 4E hater like a lot of guys out there, but I do admire the screw you, I'll do what I want attitude that must've led to Pathfinder's creation in the wake of 4th ed. I always really liked 3.5 as well, I liked its granularity and specificity, and its infinite variation. There's no other crunchy system that would let you make a half-fiend goliath barbarian/psion

So needless to say, I participated in the original Pathfinder playtest and I loved what they'd done with the place.

Advanced Player's Guide Playtest, Round 1: Cavalier & Oracle picks up where the Core Rulebook left off. The two new classes presented, the Cavalier and the Oracle, are both novel and well-thought out.


The Cavalier

The Cavalier is the noble knight, loyal to his steed, his lady, and his chivalric order. A leader in war and a diplomat at court, he is the quintessential renaissance man.

While on the surface resembling the class of the same name from 3.5, the Cavalier has been completely re-conceived with the addition of the class features Challenge, Oath, and Order.

Lets look at these abilities one-by-one.

Challenge: Somewhat resembling the Defender's Marking ability from 4th ed. (but less tactically powerful), Challenge allows the Cavalier to challenge a foe to combat, once per encounter. The Cavalier deals extra damage to the challenged foe, but suffers from flanking when attacked by any foe but the one challenged.

Oath: This feature allows the Cavalier to swear one, or more, oaths which, when kept, confer some minor bonuses. For example: an Oath of Chastity gives the Cavalier a +1 morale bonus on saving throws against enchantment (charm) spells after every 24 hours spent avoiding the temptations of the opposite sex. Oath of Vengeance grants a +1 to attacks against a hated creature type for one hour after slaying a creature of that type. Overall, these oaths are interesting as they encourage role-playing, but they add little to the combat effectiveness of the Cavalier, granting very specific bonuses that will only come up once in a great while.

Order: The most interesting feature of the Cavalier is his Order. The Cavalier's knightly order sets up a sub-class of sorts and provides the GM with great background material for his setting. Each Order, chosen at 1st level, sets edicts of behavior, slightly modifies the Challenge ability, grants two new skills as class skills, and grants different level-dependent abilities at the Cavalier advances. For example: Members of The Order of the Cockatrice must remain loyal to allies and work toward the goals of the group. They gain Perception and Survival as class skills, as well as several abilities that aid allies in tactical combat. Members of The Order of the Star however must protect the faith and all who follow it. They gain Heal and Knowledge (religion) as class skills, as well a several faith-based morale-boosting abilities.

For those of you who've looked at Pathfinder, you know that each class has an impressive ability gained at 20th level. One of Paizo's goals in writing Pathfinder was to make every character class interesting to play through 20 levels. The Cavalier's 20th-level ability, while useful, falls somewhat short. Supreme Charge doubles the damage of attack damage made on the charge and if the charge is a confirmed critical, the target is stunned for 1d4 rounds. As cool as this is, it just doesn't match up to the 20th-level abilities of the Cleric or Fighter.

The Cavalier also gains a special mount, regular bonus feats (every 4 levels) and a few abilities that enhance charging abilities, but overall, I don't think that the class can stand up to the Core Rulebook classes. Granted, 3.5 (and therefore Pathfinder) doesn't have the same core mechanic of class design of 4th ed., not all classes are created equal, and that's a good thing, but unless this class perfectly fits with your character concept, just play a Paladin.


The Oracle

The Oracle is the chosen of the gods. Blessed/cursed without their consent, the oracle is a rogue servant of the gods (usually plural), granted great power to further their gods' ideals and goals.

Let me start out by saying that the next Pathfinder PC that I make is going to be an Oracle. This is one of the coolest classes I've read in a while and it really revives the balls-out approach from the Core Rulebook. Reading the class you think, this is too powerful, before you remember that the game is more powerful than previous editions. I could say that the Oracle is a reinvention of the 3.5 Favored Soul, but it is so much more.

The Oracle's most noteworthy class feature is Focus. An Oracle's Focus is the aspect of her gods' portfolio upon which her powers center. The Oracle chooses her Focus at 1st level and at 3rd level (and every four levels thereafter), she gains a Revelation from that Focus (chosen from a list, similar to the Rogue Talents). The Oracle also gains four class skills from her focus, and a bonus spell at 3rd level and every odd level thereafter. For example: The Bones focus adds Bluff, Disguise, Intimidate, and Stealth to her class skills, bonus spells including control undead at 15th level and wail of the banshee at 19th level. Her available revelations including conjuring bone armor on herself, causing negative energy attacks to bleed, inflicting negative energy attacks with a melee touch, becoming incorporeal and invisible, and inflicting negative levels.

The Oracle's Curse class feature is a drawback, chosen at first level. The Curse, chosen at 1st level, inflicts a minor penalty (such as deafness or a wasting disease) which is lessened as levels increase, and a significant bonus (such as all spells cast Silent, scent, and eventually, tremorsense, in the above example of deafness). These curses serve to make the character more interesting, without forcing a crippling disadvantage.

The Oracle is a spontaneous caster using the Cleric spell list, which is an obvious choice, but I'm not sure I agree with it. The Oracle is more than the buffer and healer of a group, she has many other powers from her focus, and it seems like a unique spell list for each focus would be appropriate (though the focus bonus spells are nice).



So, overall, Advanced Player's Guide Playtest, Round 1: Cavalier & Oracle looks to be a fantastic first step and I can't wait to tell you about Rounds 2 & 3. Oh, and if you've never picked up a Pathfinder book, do yourself a favor and do it the very next time you can. Their full-color glossy pages and beautiful original artwork are pure publishing art.


The Advanced Player's Guide Playtest, Round 1 can be downloaded here.
Last edited by Chris on 2009-12-28, 18:37; edited 1 time in total